There is understandably huge concern about the learning that many students will have missed whilst unable to attend schools face-to-face due to the COVID-19 outbreak and due to a possible extended 'summer learning loss' effect where learning prior to the lockdown may have been forgotten. There is also, rightly, concern about the impact of students from a socio-emotional perspective.
It is important that we avoid making sweeping assumptions around students and how far they may have engaged with remote learning based on, for example, measures of disadvantage.
We have built our plans around the EEF tiered approach model outlined below: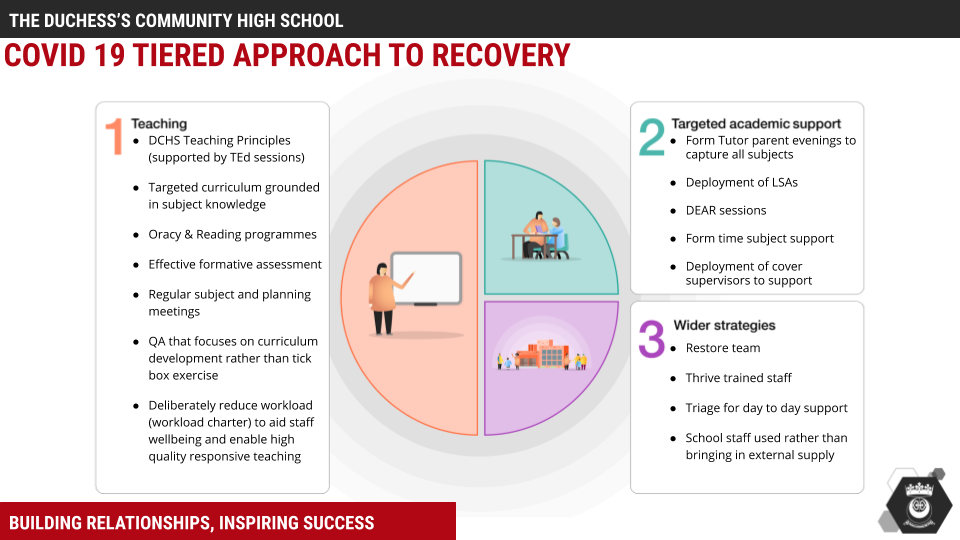 This page sets out the thinking behind the planning for Autumn term at the Duchess's. Whilst not exhaustive, we believe that it will cover most of the FAQs for our safe, continued return to school full time.
Where Phase 4 'sits'
All the key words and phrases above have a role to play in our Planning and Engagement. We want to supply our school community with a real confidence that we will not only Repair our young people and Reconnect them to their learning but we will also offer a new Resolve and Resilience as a school. That we have learnt from this experience and we are ready, together, to Re-imagine what the School Experience at DCHS should be all about.
The idea of 'ordinary magic' of school is that the evidence shows that routine, and sustained exposure to consistent teaching and instruction is what makes schools magical, not short term initiatives and gimmicks. Our students now need the 'ordinary magic' of school more than ever.
To allow us to reflect on progress in the above we want to set our context, both individually and as an organisation within the concept of 5 Habits of Mind…..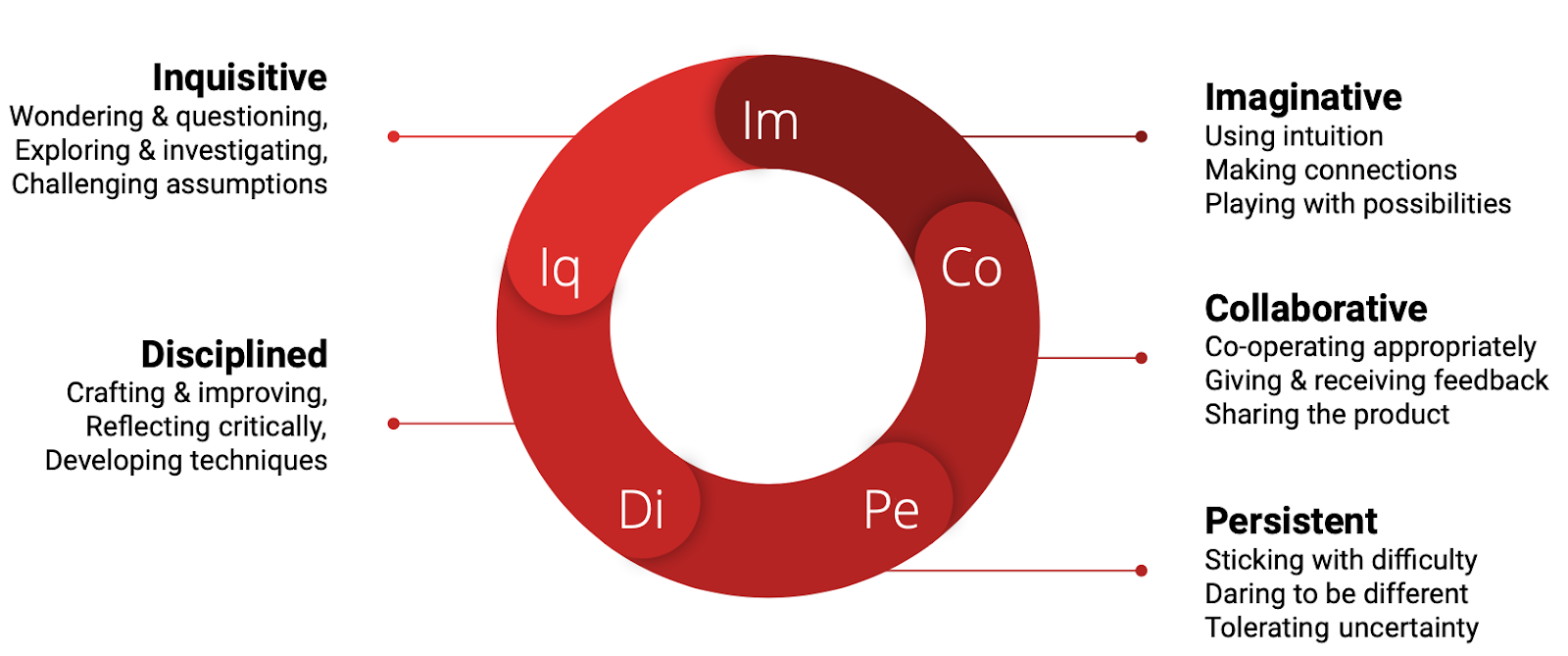 We believe that by embedding the 5 habits of mind into our whole school approach,  we will be providing students, staff and all other stakeholders with the skills needed to support recovery; strengthening the principle that good, positive thinking, is at the centre of moving forward during these unique times. 
Finally we want to encourage all to consider the five strands below as a way of developing a continuum to shape our school. We need to embed one strand after another (starting with Space) so that our foundations are secure and we continue to expand the ethos that was so clearly in DCHS prior to March 2020.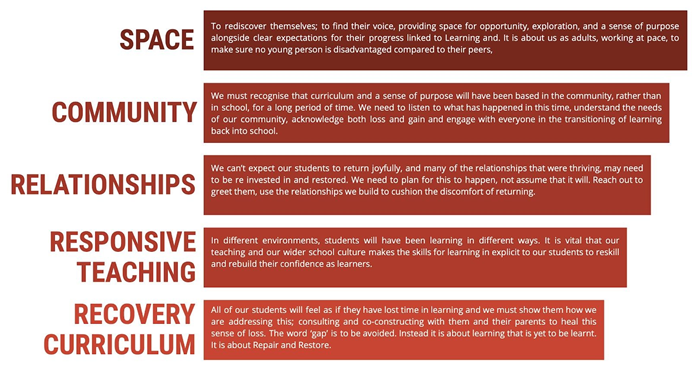 Repair Action Plan
Excellent and Responsive teaching (Ordinary Magic) will ultimately be what makes the difference for our students, particularly those from a disadvantaged background. Supporting and developing our colleagues and ensuring they have a manageable workload so that they are able to teach effectively is key. Any plans about future interventions, such as spending new monies linked to catch up and tuition, must take into account the need to not add further expectations at such a unique and challenging time.
How we will Reduce the risk of infection and transmission.
Five guiding principles:
As adults we will model 'safe behaviour' to our students and each other, everywhere on our school site.
We will respect and keep to the guidance that has been put in place so that there is a consistency of approach that our students will identify with.
We will recognise that there is a clear difference between wilful decisions by students to behave outside our behaviour guidance and simply making a mistake. We should measure our responses accordingly.
We understand that each day is driven by the central premise of being in school for our students and each other. To make sure we live this we will not schedule internal meetings during the school day in September and agreed absences will be kept to essential personal requests only.
Each day we all have responsibilities both within classrooms and around the school to make it a safe environment to work and learn in. 
These 5 principles will be kept under constant review.