Please find below a link to the first Vlog of 2022
The summary of the vlog is as follows:
https://www.youtube.com/embed/c72mD8iZuq0
Covid Updates
Please read the letter attached in regards to the changes to isolation periods and PCR tests. There is also a flowchart to explain the new day 6/7 LFD testing for positive cases at the end of this page.
You can read the letter here
School therapy dog
Buddy is a cockapoo, chosen for his friendly temperament and non-moulting coat. Buddy is a hypoallergenic dog.
It has been proven that students can benefit educationally and emotionally, increase their understanding of responsibility, as well as developing empathy and nurturing skills, through contact with a suitable, calm dog. In addition to these benefits, students take great enjoyment from interaction with animals
We want to encourage those students who are vulnerable, or less confident to have a friendly companion. The breed has been carefully selected as suitable for this type of environment. Buddy is well cared for and is owned by a member of staff at DCHS.
We hope that your child will benefit from having Buddy in school; however, if your child does not like dogs, there is no reason why he or she should come into contact with him.
When he is in the building there will be a dedicated area where he will be kept, and he will be exercised outside when students are in lessons.
If you do have any questions, or concerns then please do not hesitate to contact us.
Mock Exams
All students in year 11 today sat their first mock exam today, as well as some students in Year 13. Students conducted themselves really well in the exam today and we want to congratulate them all. Over the next two weeks we know there will be some students unable to attend over this period. All students who are absent will have an opportunity to complete each assessment on their return.
MyChildAtSchool & SchoolComms
We will be moving all communication to the MCAS platform at Easter and will no longer use the SchoolComms service.
Flowchart for day 6/7 LFD testing for positive cases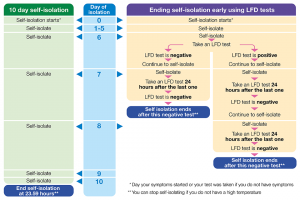 (more information here)